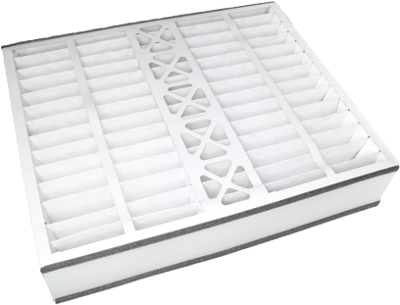 Allergen

$13.98

Allergen Preferred

$16.98

Allergen Supreme

$19.98
20x25x5 Air Filters
Select from our 20"x25"x5" air filters in standard size, actual size - 19 1/2 x 24 1/2 x 1 3/4"
These high-quality, pleated air filters are available in several different Allergen ratings to provide you with the best filtration level options to meet your air quality needs.
Find the Minimum Efficiency Reporting Value, or MERV Rating options of MERV 8, MERV 11, & MERV 13 for the air filter 20x25x5 inch sizing below.

20x25x5 Air Filter Allergen Descriptions

Filter Quality

Standard Allergen 20x25x5 Air Filter: Provides highest airflow rate with adequate air quality filtration for most homes. If you have pets, allergies, or are in a dusty environment, you may want to consider a higher MERV rating.

Allergen Preferred 20x25x5 Air Filter (Most Popular): Great for allergy sufferers and pet owners. Helps prolong the life of your home or office HVAC system. Allergen preferred is a perfect balance of quality and affordability. It is the ideal choice for the majority of homes.

Allergen Supreme 20x25x5 Air Filter: Provides the cleanest, odor-reduced air. Great for severe allergy and asthma sufferers. Allergen Supreme filters offer a higher MERV rating blocking more allergens and particles. They get dirtier faster and should be changed more often to not restrict airflow to the HVAC system.

MERV 13
Get Started


Carbon Allergen 20x25x5 Air Filter: Reduces strong odors, gases, and helps reduce volatile organic compounds (VOCs). Activated carbon filters can help combat strong odors in the home, such as the smell of tobacco smoke or paint fumes.


(Carbon) MERV 8
Get Started

Choose Your 20x25x5 Air Filter Delivery Schedule
FilterTime air filter subscription service allows you the flexibility to customize how often you would like to receive your pleated 20x25x5" air filters, along with up to 3 additional filters in varying sizes, shipped absolutely FREE direct to your doorstep on-time, every-time with our FilterTime™ guarantee! Select from 30, 60 or 90 day air filter delivery options to fit your specific needs.
Custom sizing available to fit any AC or Furnace filter system or application. Contact us directly for more information on our custom air filter service solutions for home or office.
Get Started
---