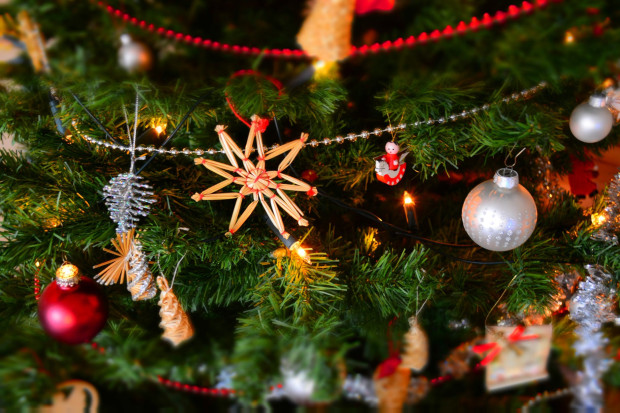 We're all about efficiency, saving money and using items that may no longer have a purpose in our home, even when it comes to holiday decorations. Do you have a lot of crafting supplies leftover from your kids' art projects or have a handful of mittens that are missing their other half? There are many items in your home that can provide a sense of the holiday spirit, they may just need to be altered or repurposed. Decorating for the holidays doesn't have to be expensive, stressful or overwhelming. Set aside time for you and your family or friends and have an afternoon of crafting to create beautiful holiday decorations and memories without spending loads of money. Get all the supplies to make the festive decorations that you all picked out for your home, add in some snacks and maybe a Christmas movie while you're working and make a fun day of it! Each time you look at your handmade decorations, you'll feel a sense of accomplishment, pride and that holiday spirit that you may not get from a store-bought decoration.
We've gathered some of our favorite easy DIY holiday decorations that you can do to get your home ready for the holidays. Many of these projects require little tools and supplies but can add that festive holiday feeling that you're looking for, without breaking the bank or taking too much time away from your busy schedule.
Book tree - organize books of all one color or similar color on your bookshelves to create a tree shape. Add in some greenery and a star at the top and you have an easy Christmas tree with items that you already have in your home.
Mitten tree - similar to the book tree is using old mittens and pinning them together to create the shape of a tree. Add pom poms, some greenery or some small bells to the mittens to spruce it up.
Holiday card tree - last one that's tree-shaped, maybe. This is a great idea to use all of the wonderful holiday cards you receive from friends and family! This can be a variety of sizes and can even live on your refrigerator.
Christmas table runner - getting a simple burlap roll from a craft store, wrapping paper from any grocery store, or even a wide ribbon can work beautifully for a table runner.
Christmas tree ornaments - make your own ornaments so your tree is a reminder of your wonderful life including any experiences you've had that year. You can make ornaments out of salt dough, construction paper, even adding pom poms to your cookie cutters can be a great addition to your Christmas tree.
Pinecone tree - we lied, this one is the last DIY Christmas tree idea. Hot gluing craft pine cones to a wooden rod in a tree shape is quick and easy and adds a level of chic to your home that people would pay big money for.
Mason jar snow globe - take a regular size mason jar, hot glue a tree or snowman to the inside lid of the jar, add sparkles as snow into the jar, put the lid on and flip it so the tree or snowman is right side up and the lid is on the counter. Add a ribbon around the mouth of the jar for more festiveness.
Hang extra ornaments on ribbon or string in front of windows or on the stair railing to add some color and holiday feeling without spending any extra money!
Use ornaments or pinecones and add them to a vase or bowl, add a white candle and a ribbon and you have a beautiful centerpiece! Bonus points if you add some greenery into the vase as well.


Simply adding greenery, candles, festive pillows, cranberries, or pinecones can instantly make any space feel more festive this time of year! The holidays are already a very stressful time, with all the traveling, planning, cleaning, and cooking and baking. Take the pressure off of yourself and make decorating your home for the holidays a fun and creative experience. Decorating for the holidays should be fun and give you that warm feeling. The holidays are such a wonderful time of the year spent with the people that you love, so leave the stress out of the decorating process. Follow us on our Pinterest page for more holiday decor inspiration.
---
« Back to News