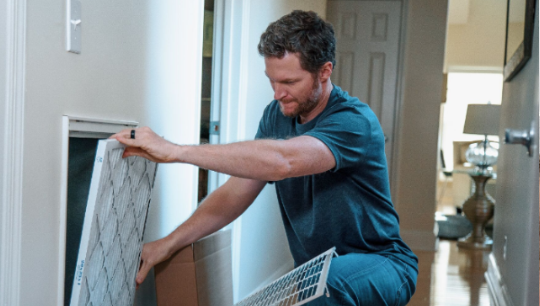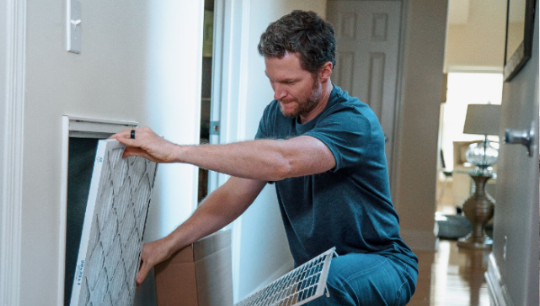 One of the most key actions you can take in order to maintain your HVAC system's health is to simply stay consistent with your air filter replacement. This keeps everything working smoothly and moreover helps with keeping your energy bill charges low. Tragically, it is a task that is adequately disregarded by various homeowners and ends up provoking higher bills and future HVAC issues. In any case, how routinely would it be smart for you to change your air filter? How consistently would it be fitting for you to change your furnace filter? In reality, it depends. Here are some basic guidelines and rules to help you with understanding what time distribution is best for your focal air system.
Frequency of your air filter replacements can vary depending on:
The type of air filter you are using
The general quality of your home's air
The number of pets in your home
The number of people living in your home
The amount of air pollution and construction around your residence
For normal 1"-3" air filters, manufacturers normally instruct you to switch them every 30-60 days. If you deal with light to moderate allergies, you could upgrade the air filter or replace your old filters more often. If you're in a more remote area or less occupied residence (like a vacation home) and there are fewer cars around, annually may be often enough.

How often should you change your air filter at home
It is a solid guideline that you should change your air filter in your home every 30 days when using less expensive fiberglass filters. High end pleated filters can last as long as 6 months, but these typical guidelines assume average use and don't take into account the size and type of filter as well as other factors.
In general, it's best to replace pleated air filters and furnace filters in your home every 90 days. The longer the filter is in place, the more dirt, dust, and allergens are trapped clogging the filter and ruining their job. If you answer yes to any of the questions below, you'll want to replace your filter more often than may be recommended.
Does anybody in your residence suffer from allergies and/or asthma?
According to the Allergy and Asthma Foundation of America, "Indoor air quality is just as important as outdoor air quality. Outdoor air can contain harmful pollution. But indoor air can actually be worse than outdoor air."
If you or another member of your household is asthmatic or suffers from moderate to severe allergies, your health is much more sensitive to airborne particulates than those that don't suffer. If you answered yes to this question, you should be sure to change your filter every 6 weeks to maintain your indoor air quality at its best performance.
If you own a dog or a cat then you must be all too familiar with the odor that can build up in time, as well as the shedding that gets worse during the change of seasons. If you own a pet or two, you should want to change your air filter every 2 months, especially when winter turns to spring and summer turns to fall.
Do you have any younger children?
When you have young children in your home, you want to keep your indoor air quality at its best. To keep your air quality under control and your home clean, you'll want to replace your filter at a minimal interval of every 30-90 days.
Does anyone in your home smoke?
On the off chance that you have smokers in your home, this will affect your filter as well. The more smokers regularly smoke at your residence, the shorter your filter's life will be. In the event that you have just a single smoker in the house, you can pull off changing out a one-inch filter at regular monthly intervals, a four-inch filter every four months and a five-inch filter every six months. Should you have numerous smokers in the house, you will likely have to change those numbers to once every month for one to two-inch filters, two months for four-inch filters and three months for five-inch filters.
Things That Can Affect the Lifespan of your Air Filter:
1. The frequency you use your heating and cooling system
Depending on your location, if you live in a mild climate and only use your AC or furnace a few hours a day, one filter could potentially endure a whole season or up to an entire year. On the other hand, if you are using your air conditioning system on a constant basis, the filter will require to be replaced every few weeks or so (especially if you are using fiberglass filters).
2. The size of your home
If you reside in a smaller home, your air conditioner and furnace pump less air for the same amount of temperature change, which means fewer filter changes. However, the smaller the appliance used to cool the small residence, the smaller the filters. Therefore, you may be required to change the filter as often as a filter in a larger home.
3. The quality of air in your home
Your air filter and furnace filter's replacement cycle is also affected by the air outside and within your home. If you have poor air quality outside or pets inside, you'll need to replace your air filter more frequently.
How to Tell When You Need to Change Your HVAC Air Filter
The entirety of the air that flows through your HVAC system, to either warm or cool your home, will, in the long run, go through the air filter. This is the reason it is imperative to keep your air filters clean and working efficiently by changing them consistently. Messy, obstructed air filters often cause:
HVAC system breakdowns and hardware issues.
Decrease airflow inside the HVAC system, causing the fans stress and making them work harder, destroying them all the more rapidly.
Blockages, which will prevent the filter from doing its job effectively. When the air filter doesn't remove particles and contaminants as effectively as they should, those particles are released back into your indoor air.
Cause contaminants to develop in your ventilation ductwork.
Prompt the HVAC system to work more, increasing your home's energy utilization and your month to month electric bills.
Air filters and furnace filters ought to be checked in any event once per month. On the off chance that they are filthy, they ought to be changed with a new spotless air filter. While removing the air filter from the air handler, you can hold it up to a light source and can check whether the filter is messy or obstructed – in the event that you can't see the light through the filter, it's unquestionably time for it to be changed.
FilterTime carries all standard sizes of air filters to fit all HVAC units
No matter the HVAC system you own, every unit requires a quality air filter that fits properly in order to keep your indoor air quality clean and your unit running at maximum efficiency. FilterTime can supply you with the highest quality and most efficient HVAC filters available! Changing the filter is as important as changing the oil in your car and FilterTime makes filters that fit all AC/HVAC units. FilterTime is one of the best choices to get home delivery for your air filters on air filter subscription service. Keep your air quality clean at your home.
Selecting the filters that are just right for your home can be frustrating and overwhelming. We at FilterTime understand this, which is why we offer an experienced staff to help answer any questions you may have. Start with our easy 6 step process in order to get your perfect filters delivered straight to your doorstep. Should you need any help during, you can contact us or use the help button online to request assistance. We do our very best to assist you in selecting the right filter for your specific needs. We want to earn your business and guarantee your satisfaction! Take advantage of our quality products, vast selection, low prices, and enjoy FREE SHIPPING on every air filter order within the USA.
---
« Back to News