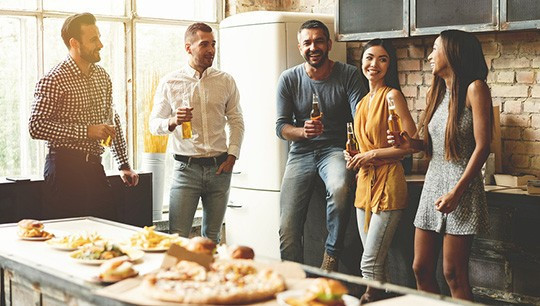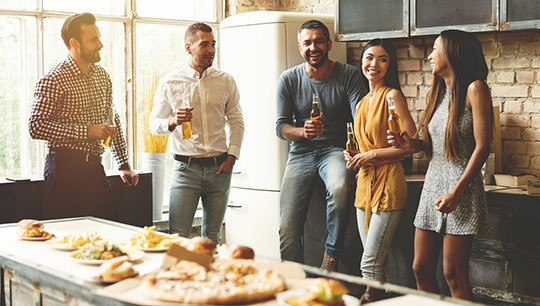 It's hard to believe we are almost halfway through the NASCAR race season for 2019. If you are like me and enjoy watching the races but cannot logistically go to each speedway to watch in person, I'd like to share some tips on how to plan an awesome NASCAR viewing party for your friends and family also interested in the sport. There are many tips and tricks out there on how to host a party however when catering to NASCAR fans you need to know some of the basics we prefer.
Tasty Food and Snacks
As Americans, we all love good food and NASCAR fans are no different when it comes to this. At most tailgates, grilling out hamburgers, black bean burgers, and hot dogs are pretty popular but you don't have to default to this tradition when hosting a party in your own home unless, of course, you want to. There are many other meal options for large groups of people like ordering a variety of pizzas and salads or having a taco bar with all of the toppings and sides. If you are having kids at your party be sure to offer kid-friendly food like macaroni and cheese, chicken nuggets or mozzarella sticks. It's also a smart idea to get throw-away paper products for the guests coming to use so you won't have to deal with a major clean up after a long, fun day.
Be sure to ask your friends and family if anyone attending has a food allergy so you can accommodate for those needs. Allergies to foods like gluten, soy, peanuts and dairy are becoming increasingly popular these days so it's a good idea to ask ahead so they have options or can bring a dish to share.
Kids Play Area
Not all kids find NASCAR interesting, yet anyway, so go ahead and plan for a bonus room or space in your house that is kid-friendly so the kids don't get bored and stay out of your hair while you are watching the race! Consider getting some coloring books, board games, putting on a good movie or two and having kid-friendly snacks (see above tip) so they have something special to eat for them. If you have a safe enclosed outdoor space, you could consider letting the kids play outside for a bit if it isn't too hot where you live.

Offer a Variety of Beer and Non-Alcoholic Drinks
We all have different tastes when it comes to what kind of beer we prefer to drink especially as diverse as NASCAR fans are. At most speedways, you are allowed to BYOB so it's also a good idea to have guests bring something to share. When in doubt, be sure to pick out a few good craft beers, a few domestic beers and maybe something fruity for any of the ladies attending. A few options I like to have on hand are Bud Light, Coors Light, Sierra Nevada Hazy Little Thing IPA, OMB Copper and Truly Hard Seltzer. No matter what you end up going with here, variety is the key! It's also a good idea to have some sweet tea, lemonade and bottled waters on hand for those who don't drink or for the children attending your party.
Make Sure Everyone has a Designated Driver
It's no secret that NASCAR fans are known to get a little rowdy from time to time so it's important to make sure everyone has a designated driver if they are drinking any alcohol. Be sure to ask beforehand or you can always suggest them getting a taxi, Lyft or Uber to make sure they get home safely. Remember no amount of alcohol in your system is safe when planning on driving, so it's best to err on the side of caution when you are hosting and ask that everyone plans ahead.
Allergy-Proof your House
Not only is it a good idea to go ahead and allergy-proof your home for guests but it is also a good idea to ask if they have any allergies before coming over. Whether it is an allergy to dust, pets, certain foods or even a chemical in cleaning products, you can accommodate for those who have allergies visiting your home in a variety of ways like keeping pets in a separate room, changing your filters and cleaning your home. For more information on accommodating for guests with allergies, visit our blog post here.

Shop for Extra Toiletries
The last thing you want when having a group of people over to your home is to not have enough of the basic toiletries needed to host a party. So be sure to hit up your local Costco or even Amazon Prime to order enough paper products and toiletries to have on hand. This is the last thing you want to worry about when having folks over!
Wear your Favorite Racing Gear
Watching the race is the perfect time to sport your favorite NASCAR driver gear such as a t-shirt, buttons or a hat. It's also fun to ask your friends and family to do the same so you can see the variety of fans and drivers within the sport. Be sure to get a good group picture to remember the day and tag us with #TEAMFILTERTIME if you do so! We'd love to see your photos.
Do you have anymore tips or traditions for planning the perfect NASCAR viewing party? Let us know! We'd love to hear your tips, ideas and traditions.
---
« Back to News