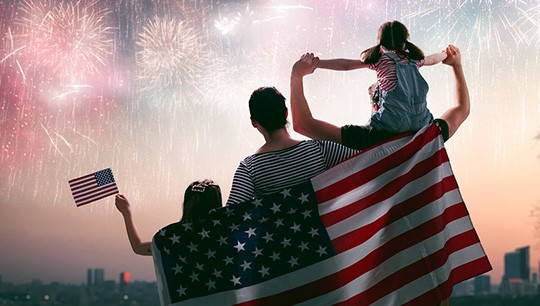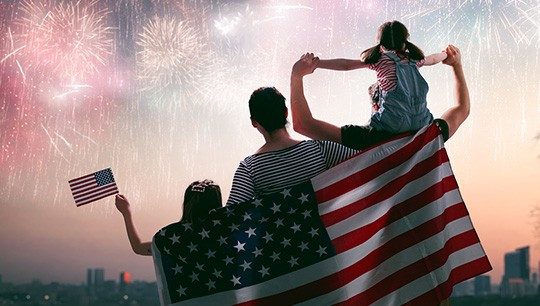 Independence Day is just around the corner! For Americans celebrating July 4th, this means a full fun-filled day which usually includes enjoying time with family and friends outdoors, barbecues and fireworks. Fireworks have been a part of the American Independence Day celebration since 1777 when Philadephia's adjourning Congress celebrated America's Independence from Britain with fireworks. While fireworks are apart of the American Independence Day tradition, there are some important safety factors you need to consider when handling them since they can be dangerous.
Safety Tips When Dealing with Fireworks
1. Check your state's laws on consumer fireworks

Not all consumer fireworks are legal to use or buy in every state so make sure you check the laws surrounding your state's stance on consumer fireworks. US Fireworks has put together a great, easy-to-use guide for the laws each state has on consumer fireworks. Check it out here.
Remember professional display fireworks are to be used by trained professionals only so do not purchase these if you have not been trained properly on how to use these.

2. Make sure an adult is around to supervise children

Make sure there is always a sober adult around to watch children around any kind of fireworks. Fireworks can be dangerous, including hand-held sparklers, so it's key to make sure all children are safe when around these. We do not recommend letting children play with fireworks as they are not toys. Kids should be kept far enough away from fireworks and any professional firework displays so they can just watch and enjoy safely.

3. Keep buckets of water, a hose and a fire extinguisher nearby
When dealing with fireworks, it is key for your safety and the safety of others to keep sources of water around. We suggest keeping a few buckets of water, a water hose, and a fire extinguisher nearby to ensure any accidental fires can be put out fast.

4. Wear safety gear
We recommend wearing fire-safety glasses, protective gloves, and protective clothing when handling fireworks to reduce the risk of injury and keep yourself safe. Most people do not already own these items so if that is the case for you TheFireStore.com has a great selection to choose from.
It might be a smart idea to get a few extra sets of safety gear for those adults who want to participate but didn't bring any gear.

5. Never try to relight a dud firework

It seems obvious but we need to mention it here, never try to relight or reconfigure a dud firework. They are dud fireworks for a reason and could cause an accident if tampered with. If you notice a firework isn't working within a few minutes of lighting it, let it cool for 5 minutes and then immerse it in water to ensure it is dead and dispose of from there.

6. Never handle fireworks if you have consumed any alcohol

If you are planning on drinking any alcohol, we do not recommend you also be one of the adults handling fireworks. Alcohol can alter your state of mind, vision and physical capabilities once consumed and you need to have a clear mind to handle fireworks safely.

7. Dispose of fireworks properly
There are three main steps when disposing of fireworks properly. This includes immersing each firework in water overnight, wrapping them up in plastic and then disposing of properly in your trashcan. Be sure to follow each step so you do not have any accidents. For more information on how to properly dispose of fireworks, read more here.

Other July 4th Safety Tips
Always light fireworks outside - never indoors.
Never point or light a firework towards a person or yourself.

Stay hydrated by drinking an adequate amount of water while spending time in the sun.

Keep children away from any grills or other hot cooking surfaces when preparing food.

Wear sunscreen (SPF 30), and reapply often, to keep skin protected from the sun.
Hire or nominate someone to be on lifeguard duty if you will be around large bodies of water or swimming.
Never leave children unattended with fireworks including sparklers.
Limit driving as much as possible since, unfortunately, many drunk drivers get on the road on this holiday.
Do not drive if you have consumed any alcohol. Plan to take a taxi, Uber or Lyft home.
Provide plenty of non-alcoholic drinks, snacks, and a variety of food for everyone to enjoy to ensure everyone stays hydrated in the sun.
---
« Back to News