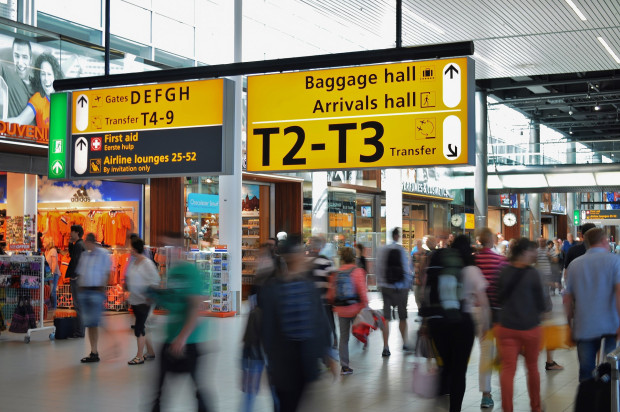 With the holidays coming up, a lot of people will be hopping in the car or on a plane to visit friends and family. Did you know the most traveled day of the year is the Wednesday before Thanksgiving? With that being said, whether you are traveling near or far, there are some things to keep in mind at the airport, on the roads, or in your own town or city. Do not procrastinate getting your plane tickets or hotels. The longer you wait, the more the price will increase.
The number one rule for traveling this holiday season, by car or plane, is to have patience. There will be long lines, traffic, and delays. You will need to allocate extra time for long check-in lines, security lines, and parking at the airport. If you're driving, you can expect extra traffic on all major highways, gas stations and hotels along the way.
Whether you are driving or flying, bring entertainment for you and your passengers. If the entertainment involves technology, be sure to bring extra batteries or a charger. Some fun ideas for the long waits or traffic can be downloading a new movie, a new book, or fun games to play with the whole family. These things can help the time pass by faster and help you look forward to your wait time. Also, bring snacks. Be prepared with a few healthy (and unhealthy, it's the holidays!) snacks that you will enjoy. Snacks at the gas station and the airport are way overpriced. You will be spending extra time in the airport and car, so bring snacks to save you money.
A few tips for flying over the holidays. If possible, check in to your flight before you ever get to the airport. Ensure your flight is on time and get to the airport about 2-3 hours before your flight is supposed to leave. Expect delays. As far as luggage, try to only bring a carry on bag. This will help keep you from having to wait in a line to check-in and at baggage claim when you arrive. It will also allow you to keep everything you may need for entertainment with you at all times.
A few tips for driving over the holidays. Even though the airports at the holidays are at their busiest, the majority of people traveling will be driving to their destinations making the roads very busy. Before you leave, prepare your car for the long drive. Change your oil, check your fluid levels, get your battery tested, and add air to your tires for optimal tire pressure, these things will help reduce the risk of your car breaking down. If by any chance you can travel in "off hours," do so. This means traveling in very early mornings or very late nights. Be sure to remain vigilant during these hours as it will be very dark and the body is typically sleepy during this time of day.
If you are not traveling, chances are you still have a short drive to see friends and family, and you may notice a lot more traffic and "out-of-towners" in your city. You will see a lot more people who may not know where they are going and are changing lanes quickly or braking abruptly, maintain a safe driving distance and be patient. You can also expect longer lines at grocery stores and supermarkets and longer waits at restaurants.
The important thing to remember is that everyone is trying to spend time and enjoy the company of their friends and family. Remain patient and give yourself a lot of extra time to avoid feeling rushed. Remember what you are thankful for during this season.


---
« Back to News