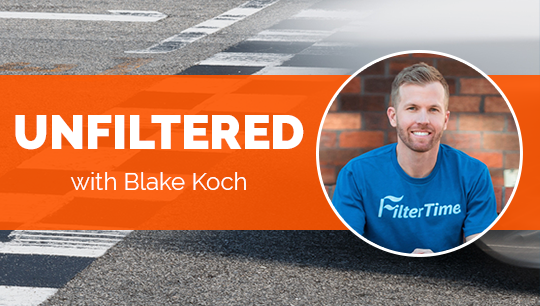 Welcome to Unfiltered from #TeamFilterTime! The Unfiltered Series is a brief opportunity to sit down with top members of our organization and community to ask those burning questions. In our first installment, we sat down with Blake Koch, founder and President of FilterTime, and former driver stock car driver in NASCAR's Xfinity Series. The community has questions, and Blake has the answers.
Unfiltered with Blake Koch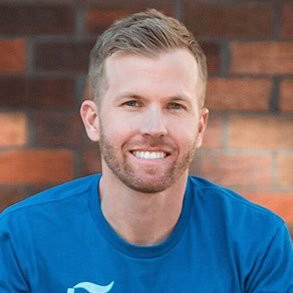 So Blake, how did you get your idea to start an air filter delivery service?
I went to the store to buy air filters, bought a bunch of stuff that I didn't need and pulled back into my house realizing I forgot to buy the air filters. I thought to myself, for something so important as air filters there has to be a better way to get them. An air filter subscription came to my mind and FilterTime was created.
You are not the only one. What are some habits that have made you successful?
Waking up early, writing down my goals, keeping a positive attitude, being around like minded people.
What's the first thing you do every day?
Wake up and grab a Celsius energy drink with 200mg of caffeine! Then read a chapter of the bible and a daily devotion.
What's your favorite all time purchase?
This sounds a little cheesy but my wife's engagement ring. Getting married to my wife was the best thing that ever happened to me.
Well played. What type of car would you drive if money weren't a factor?
A Porsche 911 turbo. My dream car.
What's the best advice you've ever received?
From my mom… if you want something go work hard for it and don't rely on anyone else to do it for you.
Between TV appearances, driver training, and FilterTime, how do you stay organized?
I am still working on that lol. But I still rely on a pen and a notebook. I keep a notebook with me everywhere I go and write down things I have to get done today. I also have separate notebooks for each business.
Do you recall the first time you and Dale Jr. met?
Yes I do, it was during driver introductions at Daytona - maybe 2014. I saw him on stage and went and introduced myself to him. It pretty much went like this. "Hi I am Blake just wanted to meet you, Hey man I'm JR nice to meet you too."
So, what was his reaction to joining an air filter business?
I met with him about a possible sponsorship or endorsement, but after hearing my passion for the business and my vision, he wasn't interested in a sponsorship, he wanted to be my partner and own FilterTime with me. He is the best partner I could ever ask for.
How did you get started in racing?
I started racing motocross when I was 9 yrs old. Then when I was 20 yrs old my step dad Tim bought a pro truck in FL and asked me if I wanted to drive it…at first I wasn't too excited about it but I gave it a try. The rest is history.
Who's your favorite driver right now?
I don't think I can have a favorite driver lol. Being a coach and a NASCAR analyst on FOX, I don't think I am allowed lol. But Michael McDowell and Justin Allgaier have been some of the best friends I could ever ask for.
We tried. Lastly, where do you see the FilterTime brand going next?
We have checked some major goals off the list already but I would say the next thing is a National Television Commercial during a NASCAR race. That will be pretty special to me. I would also like to have a FilterTime tent setup at the NASCAR races to meet fans and tell them about FilterTime.
To learn more about FilterTime's founder and President Blake Koch, visit his Wikipedia page here.
Stayed tuned for future Q&A sessions of Unfiltered!
---
« Back to News