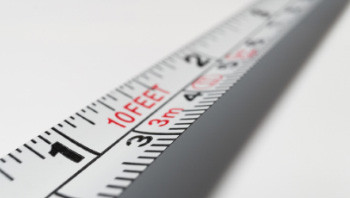 You've changed your air filter before (we hope), but do you remember what size you used? Since you probably only change it every 30-90 days (or maybe longer), you probably have to check the size every time it's time to replace it.
Of course, this sounds easy when you hear the term "standard size"; you might think that if your air filter is standard, it will be easy to find when you get to the store. Unfortunately, that's not the case – there are about 20 "standard sizes" for air filters, and none have the same measurements.
Why is getting a correctly sized air filter so important? Because incorrectly sized (and incorrectly installed) air filters cause air seepage and decrease filter effectiveness. Even worse, incorrectly sized air filters can place undue stress on your HVAC system, damaging it and increasing your energy bills.
So how do you find the right air filter?
Don't forget to Measure
Sometimes, the size is written on the air filter, in which case you can just head to the store and grab one that's the same size.
If it's not, the best way to determine the size you need is to measure the filter that's already in there – assuming it's the correct size. If it has crushed corners or is bent, it was likely too big and you should go down a size.
Air filters aren't meant to be snug. In fact, if you have to force an air filter in or out, it's the wrong size, which is why standard sizes are often half an inch smaller than they're advertised. This can be confusing because if you need a 16 x 25 filter, you'll find it measures 15 1/2 x 24 1/2. Just remember: round up to the next whole number to find the right size.
Shop
Unfortunately, it's highly possible that stores won't have your size in stock – retail stores typically only carry the ten most common sizes to conserve shelf space. This doesn't mean you need a custom filter; it means you should check another store for your correct size.
Take the easy road
OR you could try FilterTime. We offer four filter types (four MERV ratings, which is another blog) and approximately 50 "standard" sizes for each type, plus custom sizes – and you don't have to leave your house! Choose your air filter, choose a delivery schedule, and sit back and wait for your filters to arrive at your door. Contact us to learn how to get the air filters you need when you need them.

---
« Back to News